Five Best Interactive Projectors for Children's Amusement Parks
As an expert in the field of interactive projection, I am excited to introduce the five top interactive projectors that are a perfect fit for children's amusement parks. These cutting-edge solutions combine fun, creativity, and physical activity, creating an immersive and unforgettable experience for young visitors. Let's explore the Five Best Interactive Projectors for Children's Amusement Parks and the reasons behind their selection, and summarize the benefits for amusement park operators.
INTERACTIVE THROW WALL:
The Interactive Throw Wall is an excellent choice for children's amusement parks due to its active and competitive gameplay. Kids can throw objects at the projected targets, fostering physical movement and hand-eye coordination. The interactive challenges encourage teamwork and social interaction, making it an exciting attraction for groups of children.
The interactive throw wall consists of a large projection screen equipped with advanced sensors and interactive software. Participants throw soft objects, such as balls or virtual objects displayed on the screen, aiming to hit various targets or complete challenges.

INTERACTIVE SLIDE:
The Interactive Slide is a revolutionary attraction that takes the traditional slide experience to a whole new level of excitement and engagement.
Unlike a standard slide, the interactive slide is equipped with advanced sensors and projectors. As children slide down, the interactive projections respond to their movements, creating a dynamic and responsive experience. The projections can range from vibrant visuals to interactive games, turning the slide into an interactive wonderland.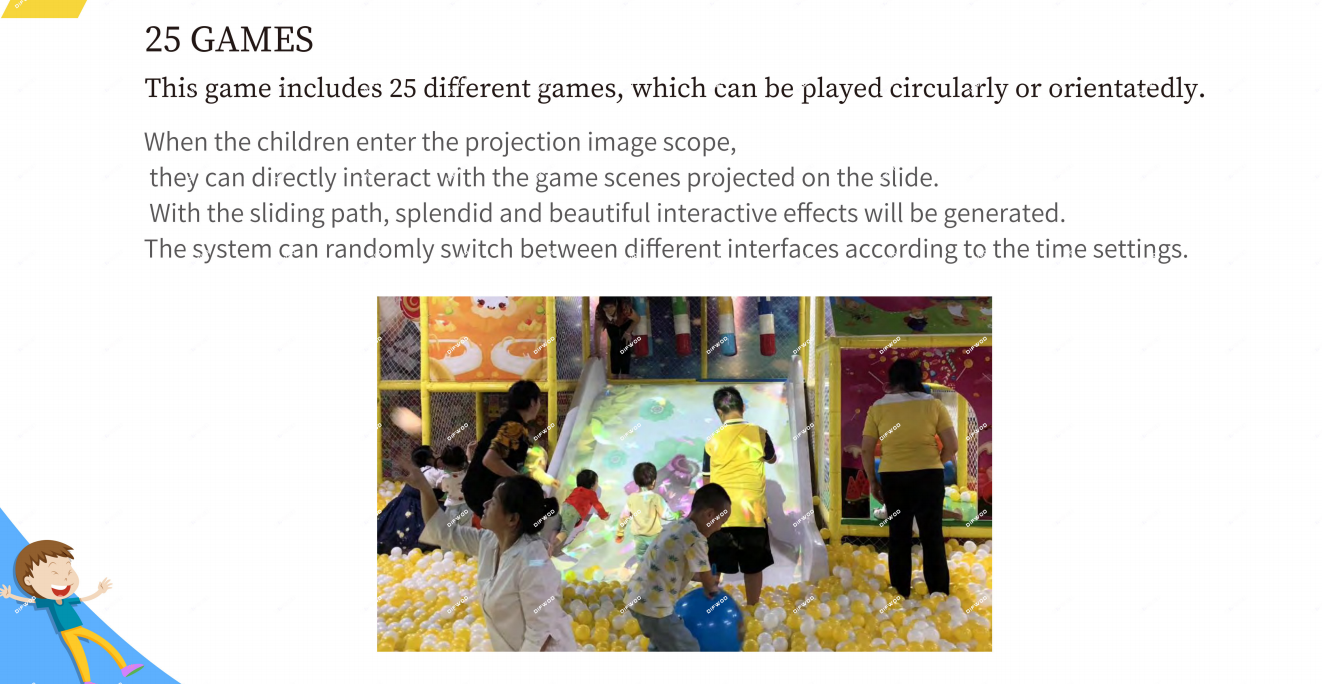 INTERACTIVE TRAMPOLINE:
Trampoline is the best place for every kid when they are playing in an amusement park, and an interactive trampoline gives them an experience they never had. Through responsive projections, children bounce on colorful, interactive visuals, turning the trampoline into a magical and dynamic wonderland. The interactive trampoline encourages kids to stay active, making it an ideal addition to any amusement park focused on promoting a healthy lifestyle.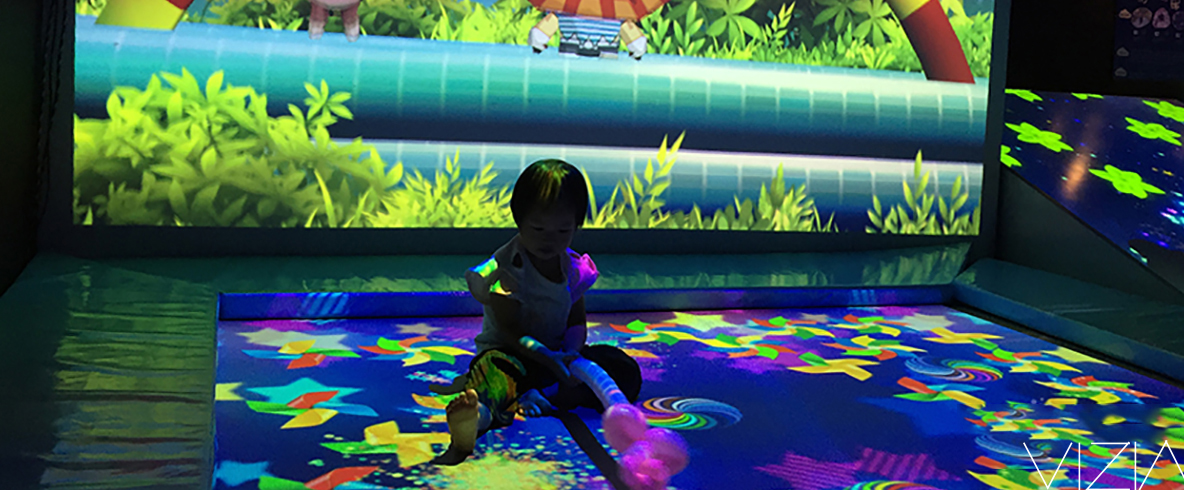 INTERACTIVE ALIVE DRAWING:
Interactive Alive Drawing is a unique attraction that combines art and technology. Children can bring their drawings to life on a specially designed surface where the projections respond to their creations, animating characters and scenes. This interactive experience fosters creativity and imaginative play, delighting young artists and visitors.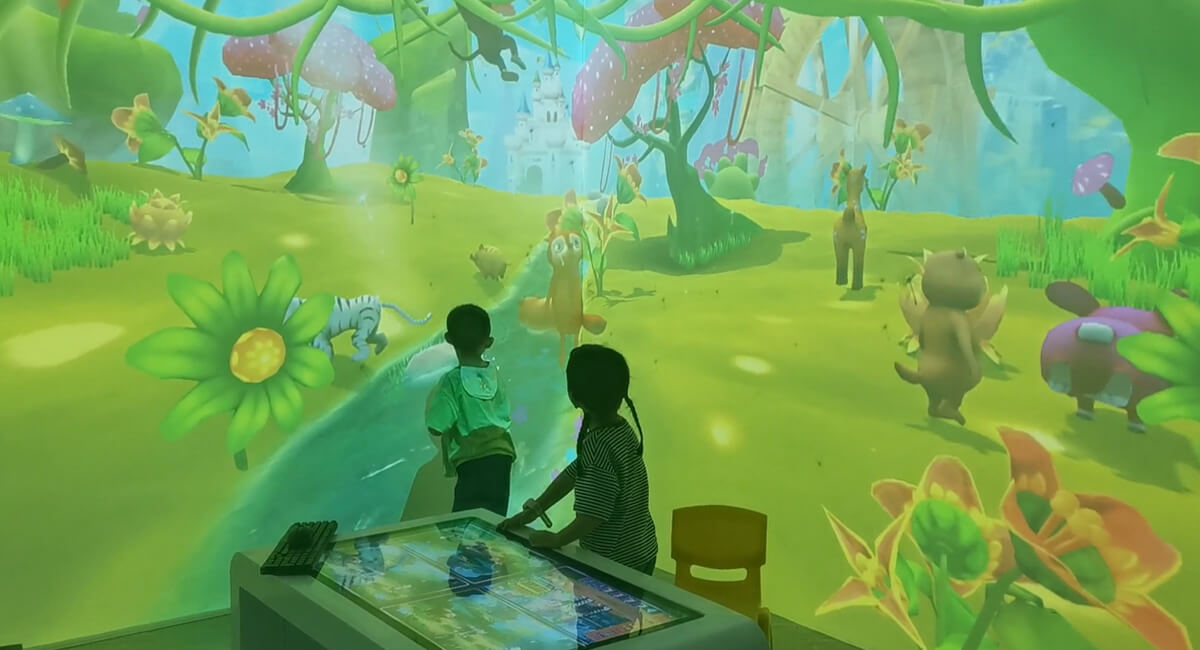 INTERACTIVE SANDBOX:
Transform traditional sand play into an enchanting experience with the Interactive Sandbox. As children shape the sand, interactive projections respond, creating virtual landscapes with water, plants, and animals. The fusion of physical and virtual elements promotes exploration, imagination, and sensory engagement.

In conclusion
Using these interactive projectors, the benefits are manifold if you are an amusement park operator. First and foremost, incorporating interactive attractions enhances your park's appeal and differentiates it from competitors. The interactive experiences create a strong draw for families, increasing visitor numbers and enhancing guest satisfaction.
Moreover, these interactive projectors offer versatility and adaptability, allowing you to refresh the attractions with new content regularly. This means the experiences remain engaging and exciting, encouraging repeat visits and generating positive word-of-mouth marketing.
In conclusion, the five best interactive projectors for children's amusement parks – Interactive Throw Wall, Interactive Slide, Interactive Trampoline, Interactive Alive Drawing, and Interactive Sandbox – offer a powerful combination of fun, creativity, and physical activity. By introducing these attractions, amusement park operators can elevate their offerings, increase visitor numbers, and create unforgettable memories for children and families alike. If you are not started yet or thinking about updating your playground, please consult with DIFWOD, we are offering a one-stop of planning for an interactive projection playground.