Transform your banquet hall with our projection solution! High-definition, stunning visuals enhance your event experience. Showcase your unique style, captivate clients and guests. Project excellence into the future! Don't miss out, book now.
3D Holographic Restaurant Projection
3D Holographic Restaurant Projection
3D Holographic Restaurant Projection
3D Holographic restaurant projection is specially designed for restaurants, hotels, and bars. It uses multi-channel edge fusion software developed by our company to perfectly splice multiple projection images to form a huge multi-channel interaction. Without loss of clarity, it greatly increases the size of the image, makes its display area larger, and makes the display effect more impressive.
Compared with traditional restaurants, the projection interactive art restaurant can bring more market effects to businesses. It provides a plastic and deformable packaging platform for businesses. It tailors a new packaging form for businesses from the perspective of theme, interaction, art, etc., to stimulate the industry market, and new consumption experiences, and bring an unprecedented dining experience to businesses and consumers! It is the best choice for businesses to break through the market and create a special restaurant. So if you are interested in that, please let us know, we will offer a free plan for you.
The set includes: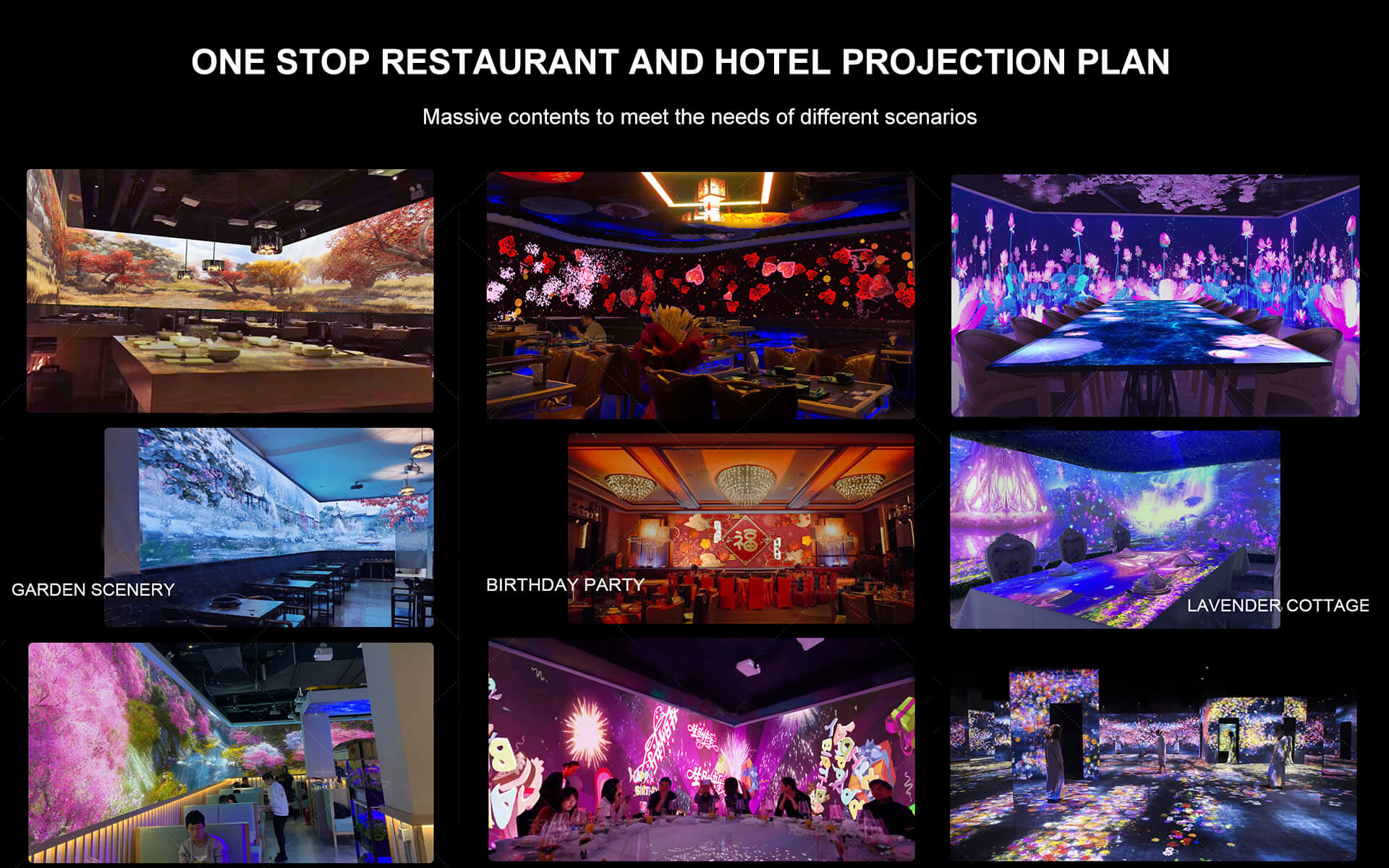 When the competition becomes fierce and more and more people pursue novelty, this table interaction makes your restaurant unique. If you want to run a successful restaurant and attract more consumers, you can try this one. This dining table is specially designed for a 1.5m round dining table.

If you want more interesting interactive restaurants, please let us know.
The banquet hall is very important for a hotel. With our projection, the atmosphere of the birthday parties, wedding banquets, press conferences, and other events can be instantly displayed, giving a shocking effect, and bringing a continuous and considerable income.
We have designed different theme content. The hotel can spend less on decoration after using projection.
We will take one as example to tell you how how to start.
Let us know more about your needs
We know that everyone wants to know the price, but the price of our products is determined by many factors since most of our products are custom, so no ready price list. In order to fast understand what you need, can you send us an inquiry include size, usage, and contents request(for restaurant/banquet hall/hotels we have over 200 contents available)
Example inquiry for restaurant/banquet hall/hotels:
Hi, I want to order a projection system for my restaurant, and we want to open that mainly for birthday parties or wedding events. We going to project on three side walls even though we have four walls. All the wall height is 3.5m, and the other three side wall length is 5m, 6m, 5m. Can you offer a plan for us? Our room CAD and live pictures as attached!